#1 is the MEMBER icon found in the upper right of this page. When you click on it, you will find the list shown below*: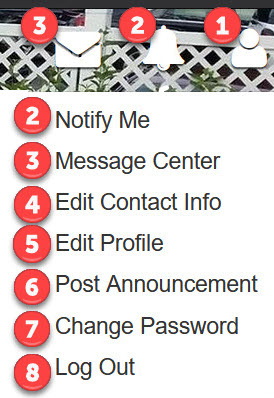 * The red dots with numbers are for reference and not on the site.
The other two icons are:
2. Notify Me
3. Message Center
These are located in the upper right for easy access.

Each numbered item is explained below.


2. Notify Me
is set by you, our member.

Below is the NOTIFY ME page.
IMPORTANT INFORMATION:
The gold stars are recommended options.
Choose your preference to receive a notification Immediately or Once Daily.
IMPORTANT
The last is "Email to All Classmates". Please choose Immediately to be sure you do not miss information.
The items starred are suggested.
Gwen has the system's auto-notifications turned OFF for new announcements on the Home page, pages added or updated, and the reunion page. She sends a notification only when a page or announcement is ready and occasionally sends an email. The goal is to send less to your email Inbox which is why I share the following suggestions.
Click on the image to enlarge it.

EDIT CONTACT INFO & EDIT PROFILE
The place to go to make updates.
To update your address or add your birthday,
choose EDIT CONTACT INFO.
To update your profile information or add personal photos,
choose EDIT PROFILE.